At Remember Youth Fund, we strive to engage adolescent individuals in after-school programs, ranging from inspirational art clubs to physical sporting activities. Both programs benefit students in ways that go deeper than creating beautiful portraits or scoring a winning goal. Specifically, research shows that increased activity in sports grants a lifetime's worth of advantages.
According to a 2000 study reported by Pate et al., athletic participation and its relationship to health-related behaviors in US youth remain steadily remarkable. The study reported that simple aspects, such as eating behaviors and more serious components, such as illicit drug consumption, directly correlate to youth sports involvement. Semantic scholar on youth sports impact, Donna L. Merkel, writes "Both male and female athletes were more likely to eat fruit and vegetables, and less likely to engage in smoking and illicit drug-taking" (Merkel).
Of course, there are some challenges when observing the potential need for physical activity. The Aspen Institutes lays out a few hindrances to the broad adoption of youth sports and physical activity, such as cost, recreation spaces, injuries, untrained leadership and coaches, technology, and equity. Merkel also created a table to describe the negative and positive outcomes of sports on physical, psychological, and social values:
Impact of Sports Programs in Youth Violence Intervention
"Positive Negative
• Physical
 ○ Increased physical activity   ○ Injuries
 ○ Enhanced fitness   ○ Untrained coaches
 ○ Lifelong physical, emotional, and ○ Inconsistent safety precautions
health benefits ○ Lack of sports science influencing policy and practices
 ○ Decreased risk of obesity  
 ○ Minimizes the development of chronic disease
 ○ Improves health
 ○ Improves motor skills
• Psychological
 ○ Decrease depression   ○ Increase stress to be an elite player
 ○ Decrease suicidal thoughts   ○ High rates of attrition
 ○ Decrease high-risk health behaviors   ○ Too competitive
 ○ Increases positive behavior in teens   ○ Inappropriate expectations to achieving
○ scholarships/professional career
 ○ Develops fundamental motor skills
 ○ Improves self-concept/self-worth
• Social
 ○ Enhances social skills   ○ Inconsistent funding to ensure proper safety
equipment, venues, and equal participation
 ○ Provides life lessons   ○ Expense
 ○ Improves positive social behaviors ○ Inequality across groups (socioeconomic,
○ Enhances time management skills ethnic, geographic, gender)
○ Improves academic achievement
 ○ Helps to develop passion and goal setting
 ○ Improves character"
Overall, an active lifestyle beginning at an early age instigates an increasingly positive potential, even with its potential adverse outcomes. According to Project Play, created by the Aspen Institute, the introduction of sports to younger populations not only creates a more physically sound and healthy body but an overall improvement in cognitive skills and mental health. For instance, a study designed to track students from kindergarten to fourth grade noticed that general physical activity is directly related to "improved academic achievement, including grade and standardized test scores…enhanced concentration, attention, and improved classroom behavior" (Aspen Institute).
Cost is cited as one of the main reasons to avoid youth athletic participation. A national survey completed by the Aspen Institute utilized around 1,000 adults whose children did participate in sports. The average household income was "$90,908". To help present how this number compares to the smaller percentage of those who have children in sports, Aspen created a chart:
Considering these challenges, we must seek more opportunities for those who merely cannot afford active participation in sports. Remember Youth Fund is looking to partner with community-based organizations with the hope of granting low-income families the ability to play and ultimately improve their overall lifestyles. As the Aspen Institute asserts, active kids AND active communities simply do better.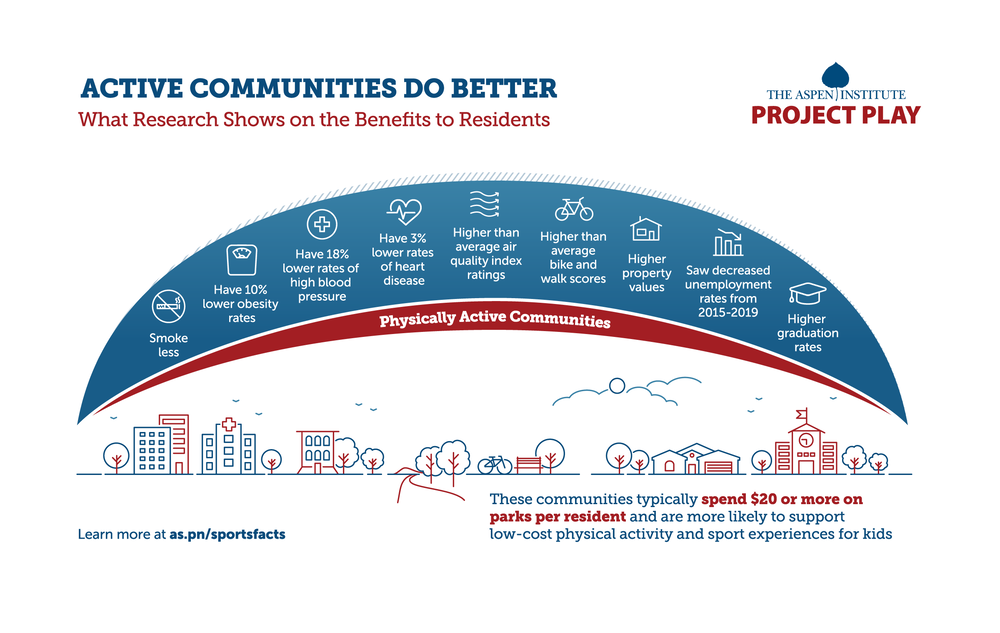 Merkel, Donna L. "Youth sport: positive and negative impact on young athletes." Open access
journal of sports medicine vol. 4 151-60. 31 May. 2013, doi:10.2147/OAJSM.S33556